The Uranium Rush - 1949
It was advertised as the largest rush, even larger than the gold rush! The government had paid over $2,000,000 in bonuses for uranium discoveries in the past two years in 1955. Some prospectors were being paid over $150,000 per month. The fever in uranium prospecting could be illustrated from the many magazine covers of the period. As early as 1949, popular science magazines started highlighting the uranium prospecting as a hobby.
The U.S. Atomic Energy Agency would analyze samples free of charge. A sample of 10 lbs. should be sent for analysis with the location and occurrence or quantity. The government was guaranteeing $3.50 per pound of recoverable uranium oxide. A bonus of $10,000 is authorized for discovery and production of high grade ores from new domestic products. No special governmental license or permit is needed to prospect for or mine uranium or thorium on public or private lands.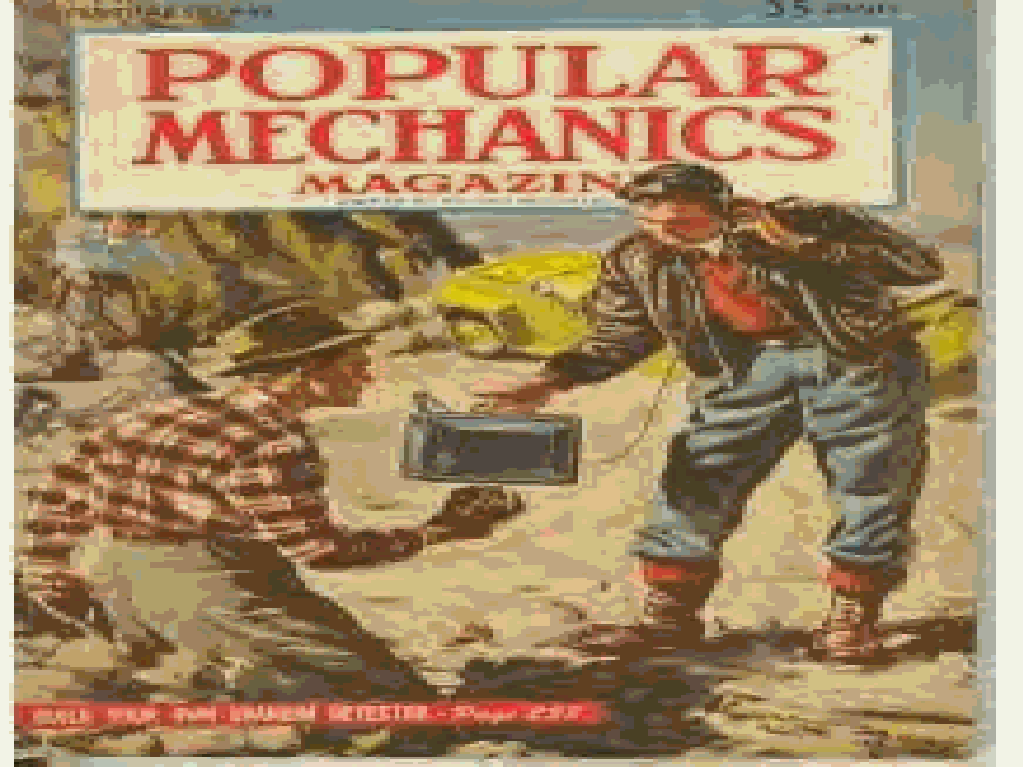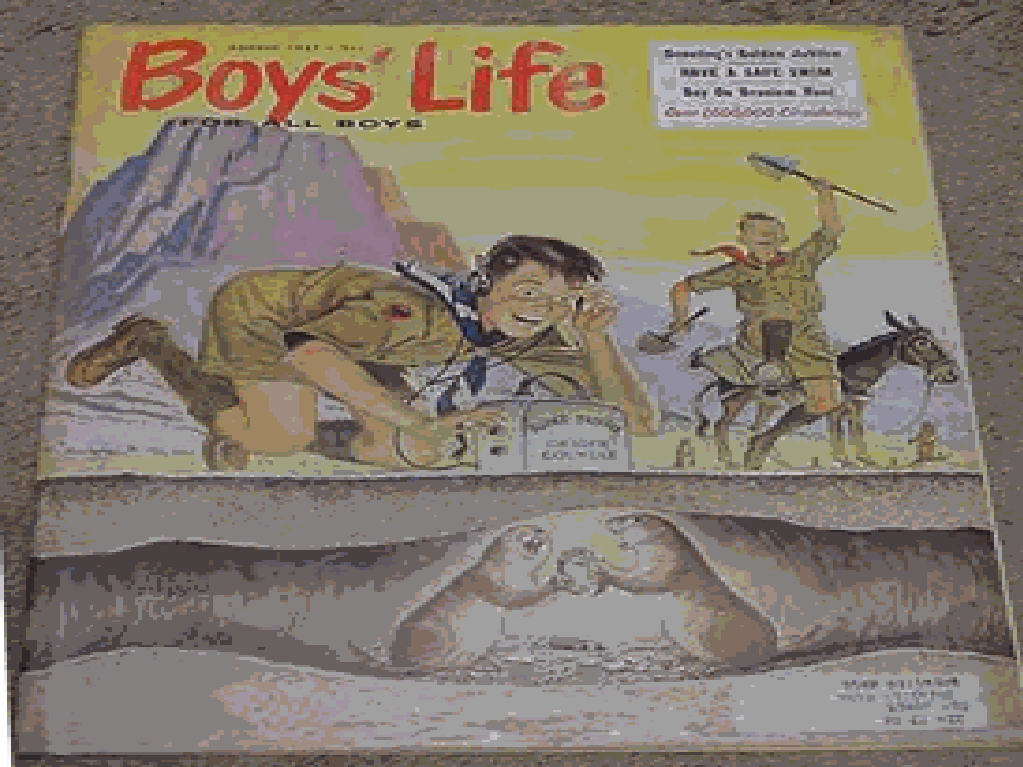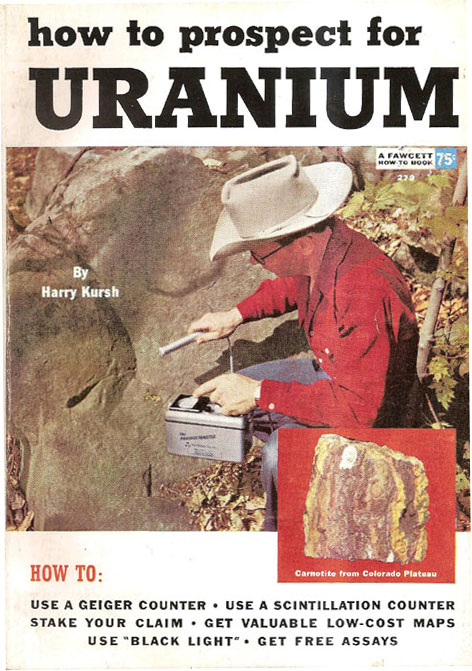 Popular Mechanics 1949 Boy Life Magazine 1950's How to Prospect for Uranium 1955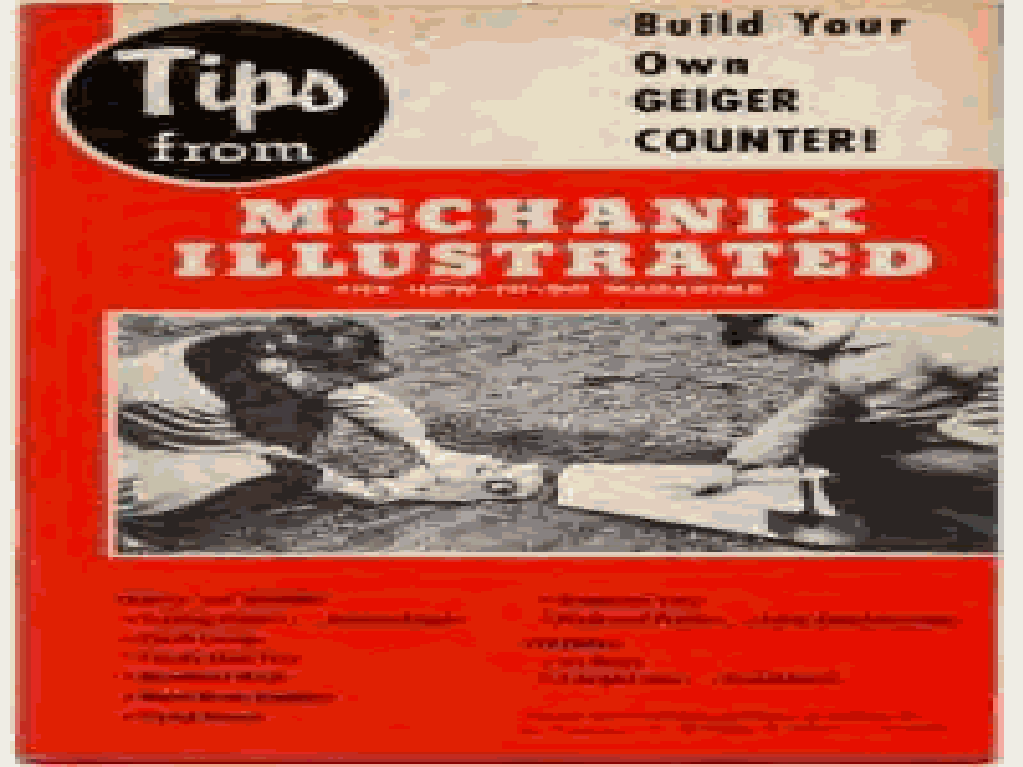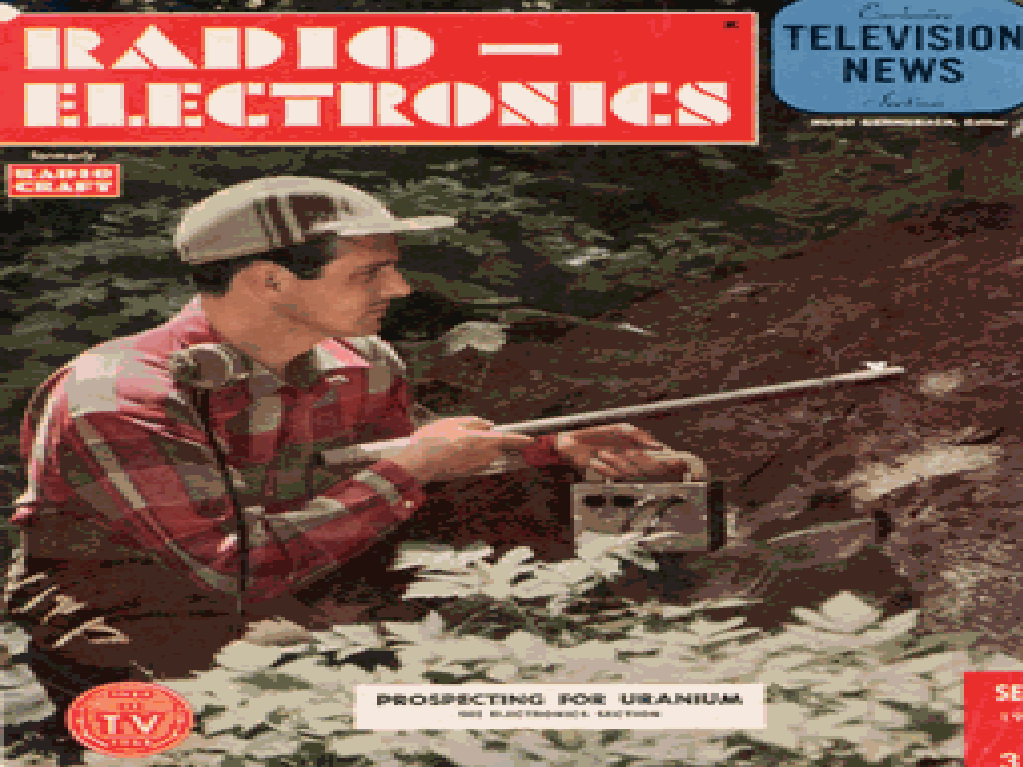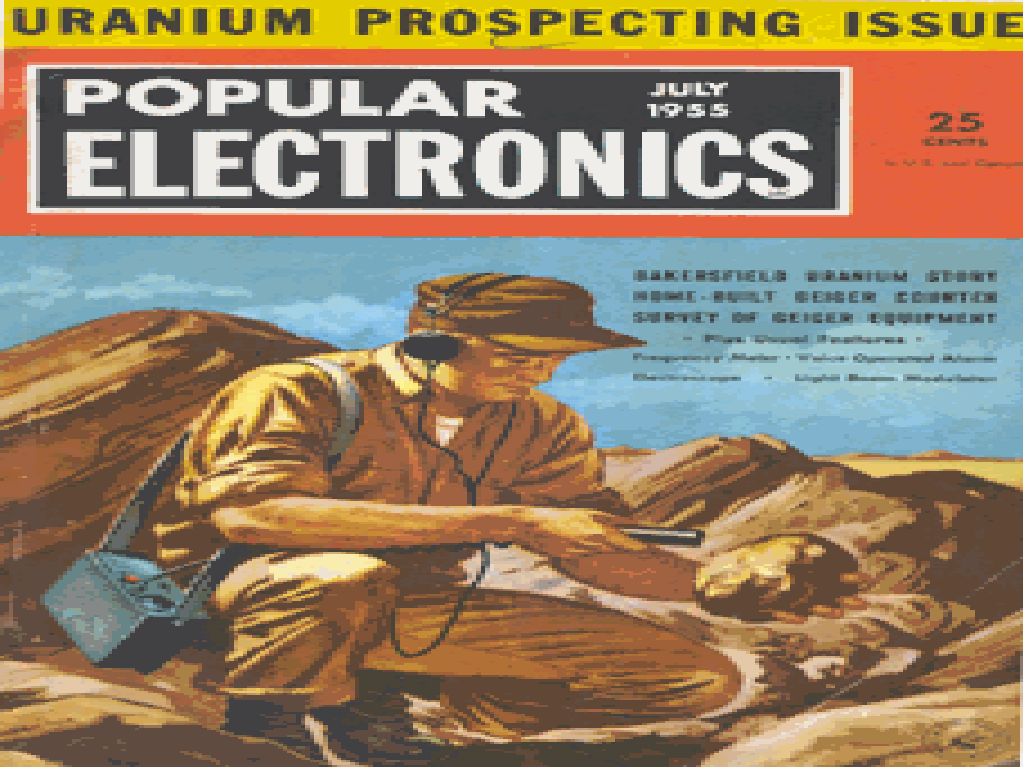 Mechanix Illustrated 1955 Radio-Electronics Magazine 1949 Popular Electronics May 1955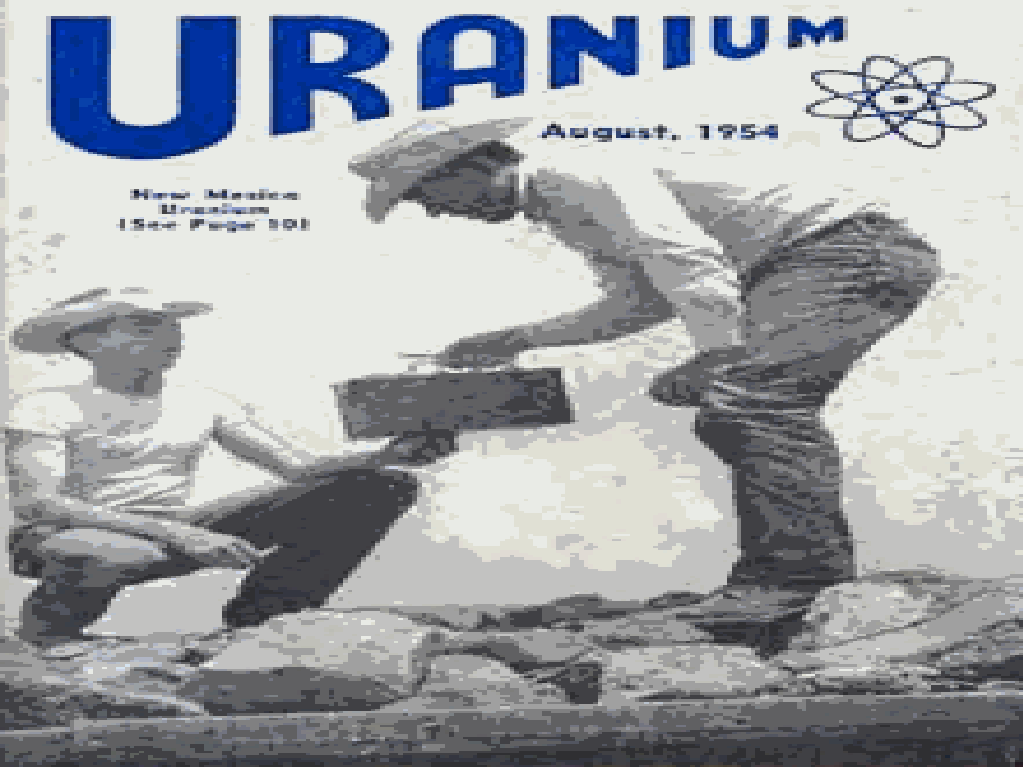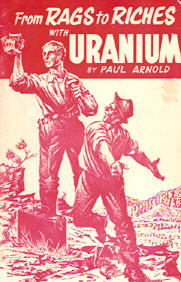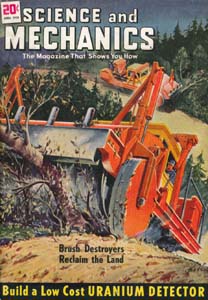 Uranium Magazine 1954 From Rags to Riches with Uranium 1954 Science and Mechanics 1950's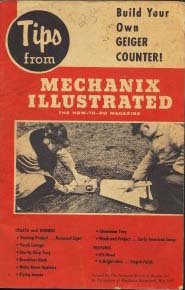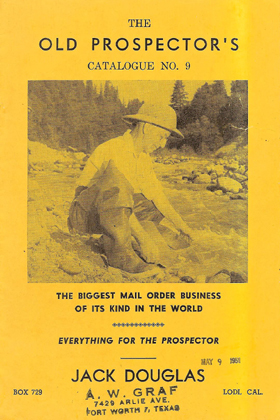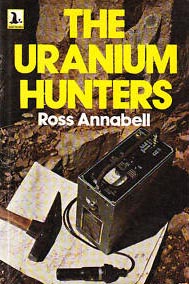 Mechanix Illustrated 1955 The Old Prospector's Catalog 1951 The Uranium Hunters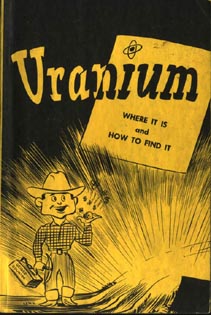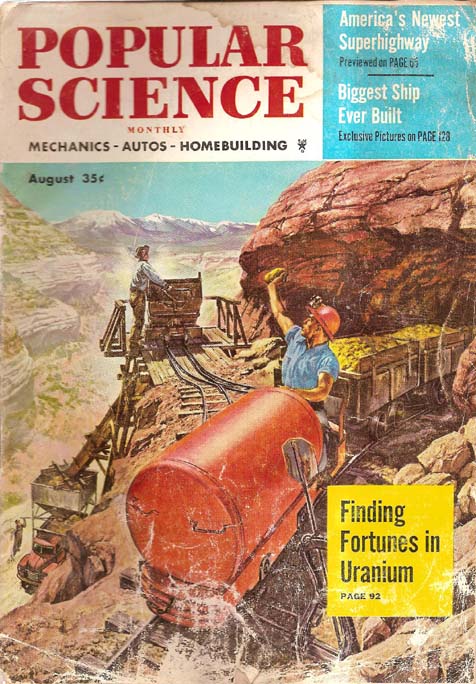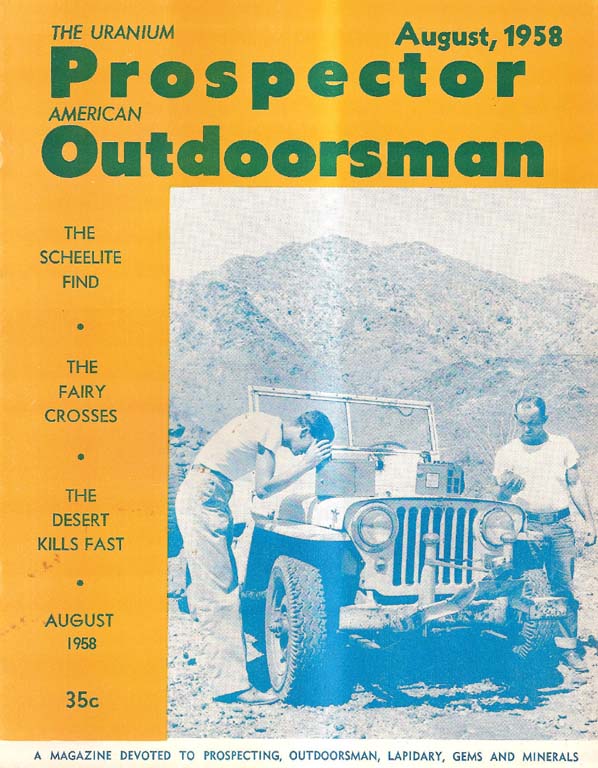 Uranium, Where it is and How to Find It 1950's Popular Science, Finding Fortunes in Uranium 1950's The Uranium Prospector American Outdoorsman 1958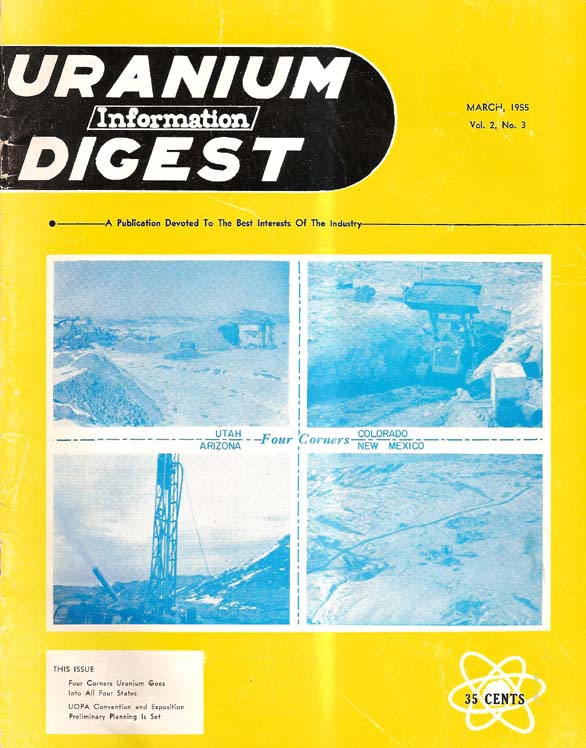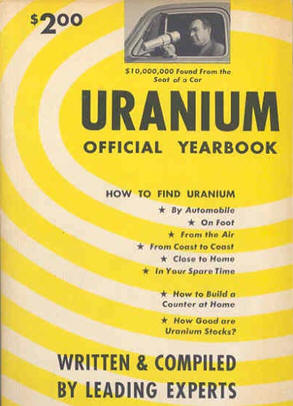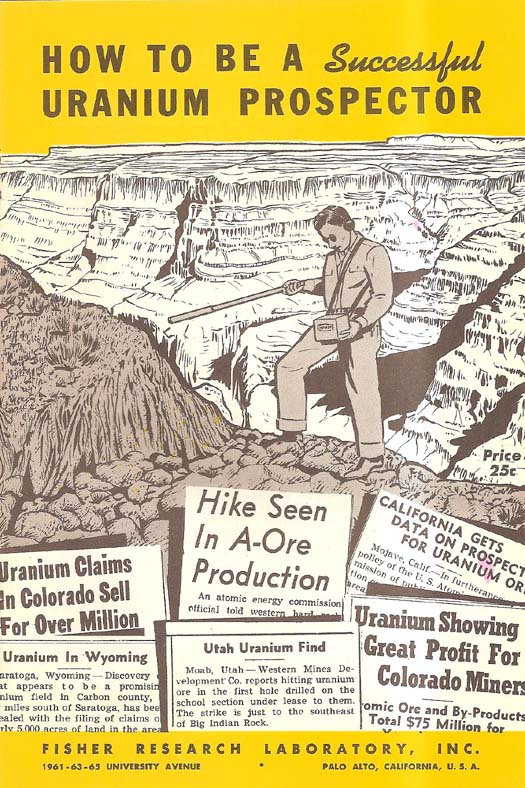 Uranium Digest 1955 Uranium Official Yearbook 1955 Fisher Research Laboratory 1950's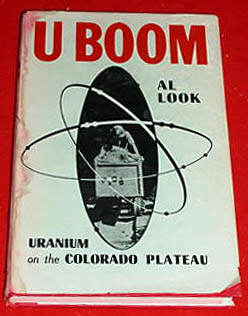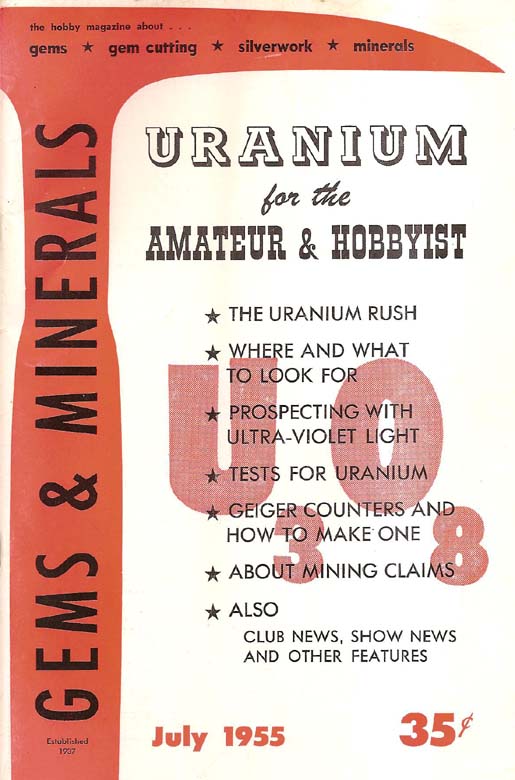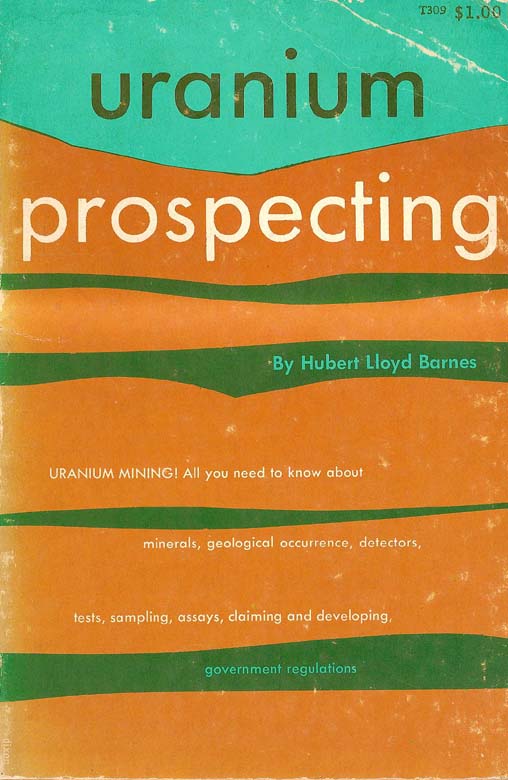 U Boom 1956 Gems and Minerals 1955 Uranium Prospecting 1956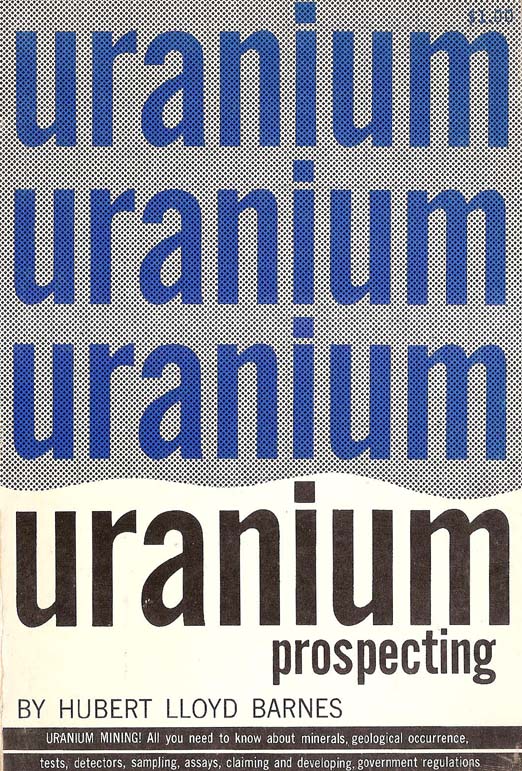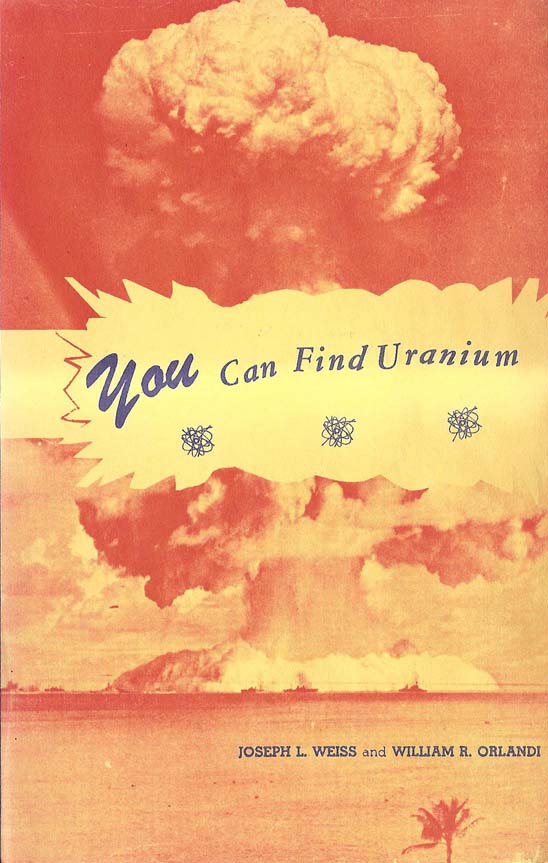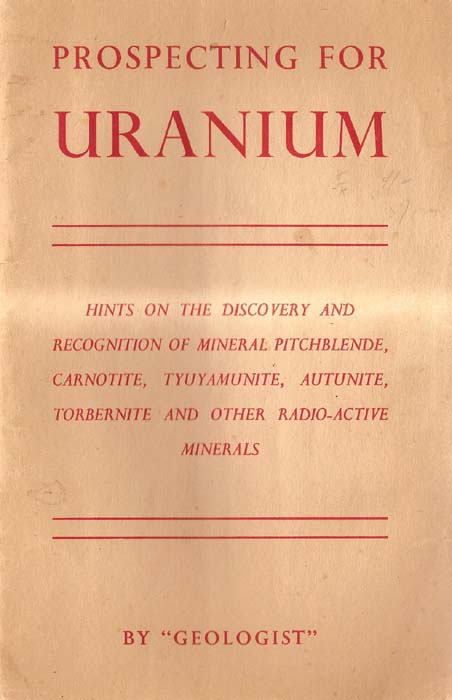 Uranium Prospecting 1956 You Can Find Uranium 1948 Prospecting for Uranium 1952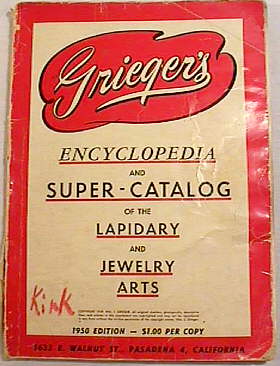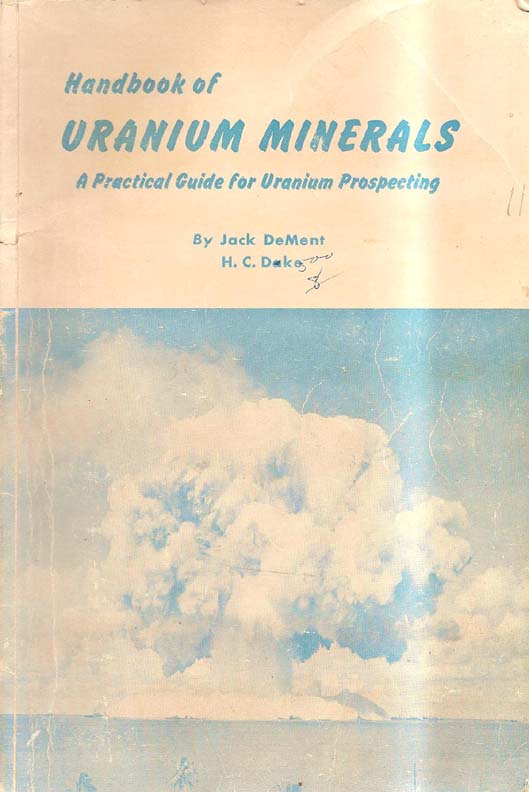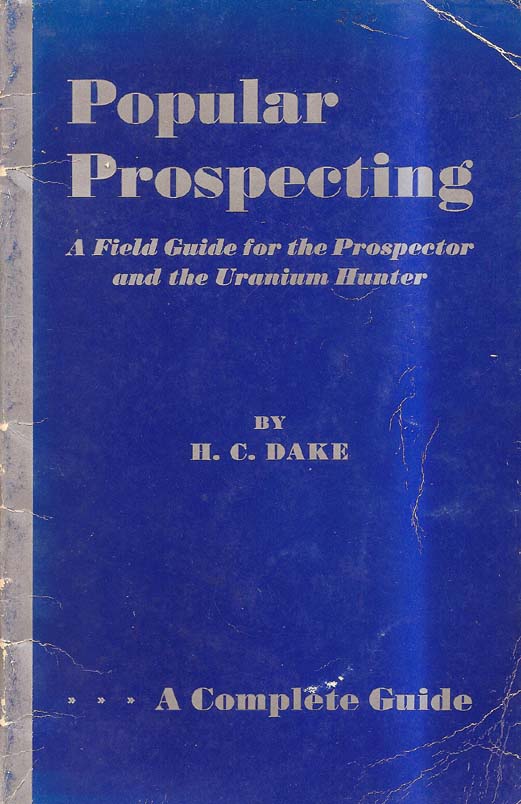 Grieger's Encyclopedia and Super-Catalog 1950 Handbook of Uranium Minerals 1948 Popular Prospecting 1955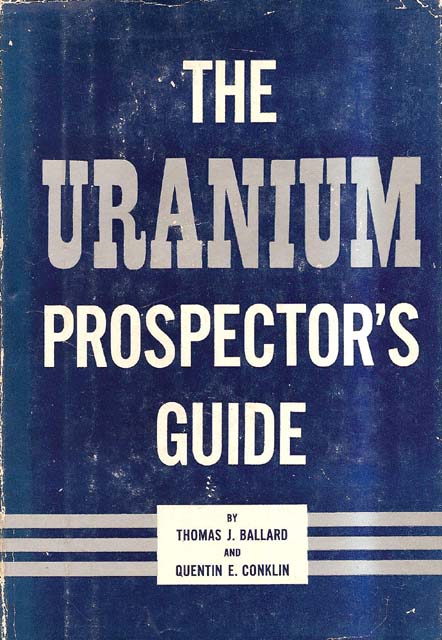 The Uranium Prospector's Guide 1955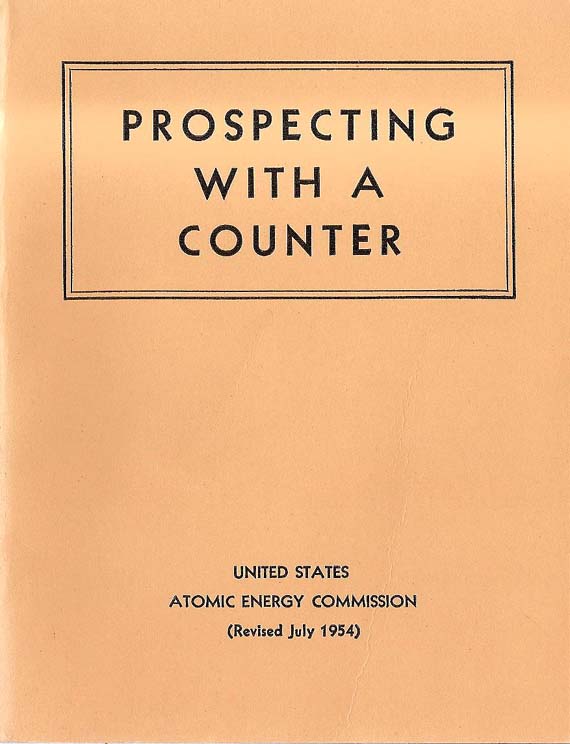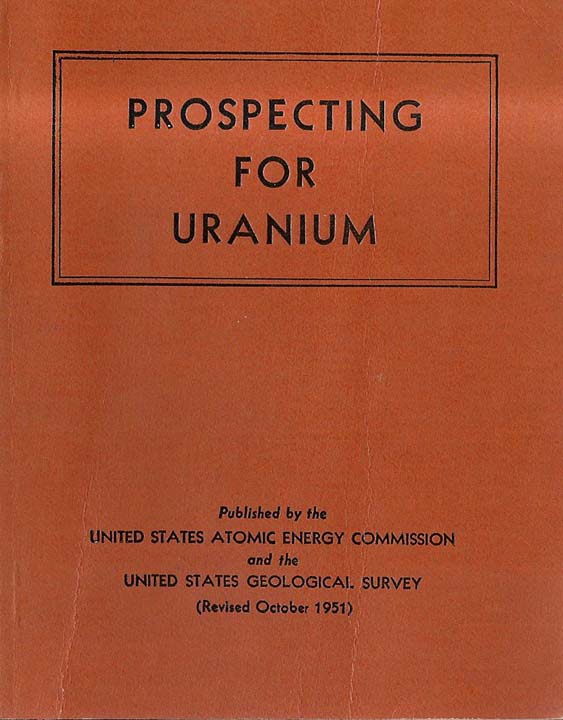 Prospecting with a Counter 1954 Prospecting for Uranium 1951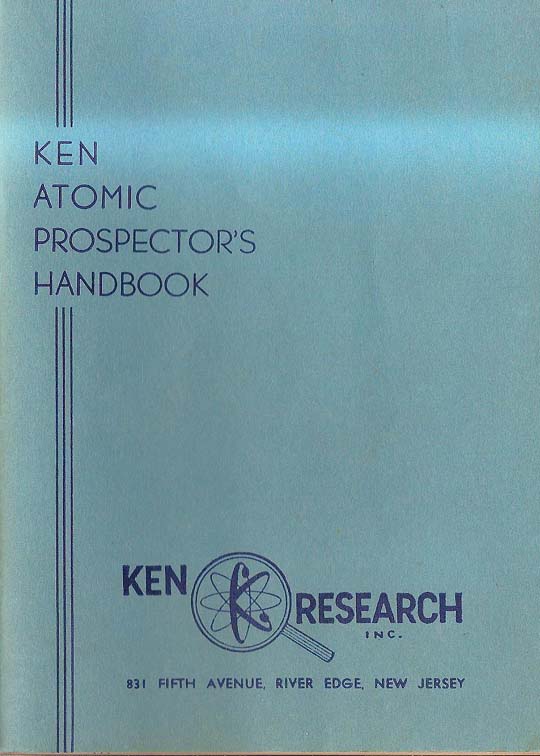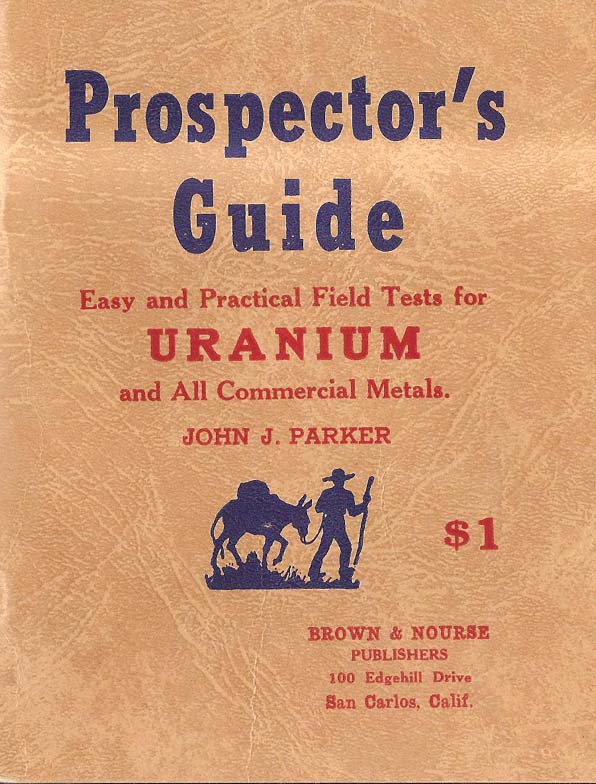 Ken Atomic Prospector's Handbook 1954 Prospector's Guide 1955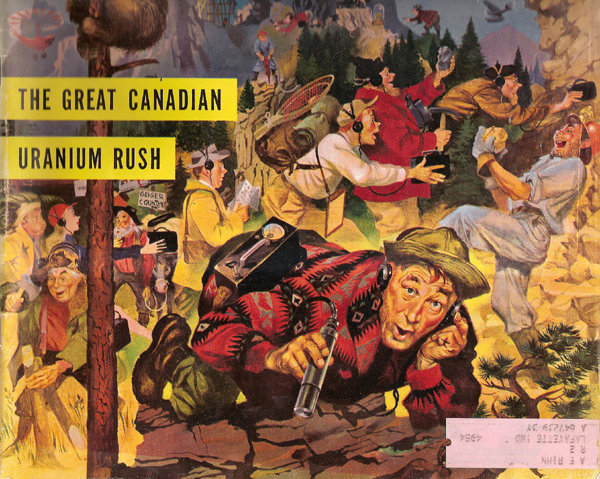 The Great Canadian Uranium Rush, Collier's Magazine 1953
In May 1955, Life Magazine did an story on "History's Greatest Metal Hunt" on the uranium prospecting craze. The article features the fashionable items required for the best prospecting. A complete kit including jeep ($1,685) could be purchased for $3,529.
Uranium Prospecting Equipment 1955
Of course, there was also the minimal amount of equipment for the cost conscious uranium prospector. The kit could be assembled for $180 including $98.50 for the Detectron DG-2 Geiger Counter.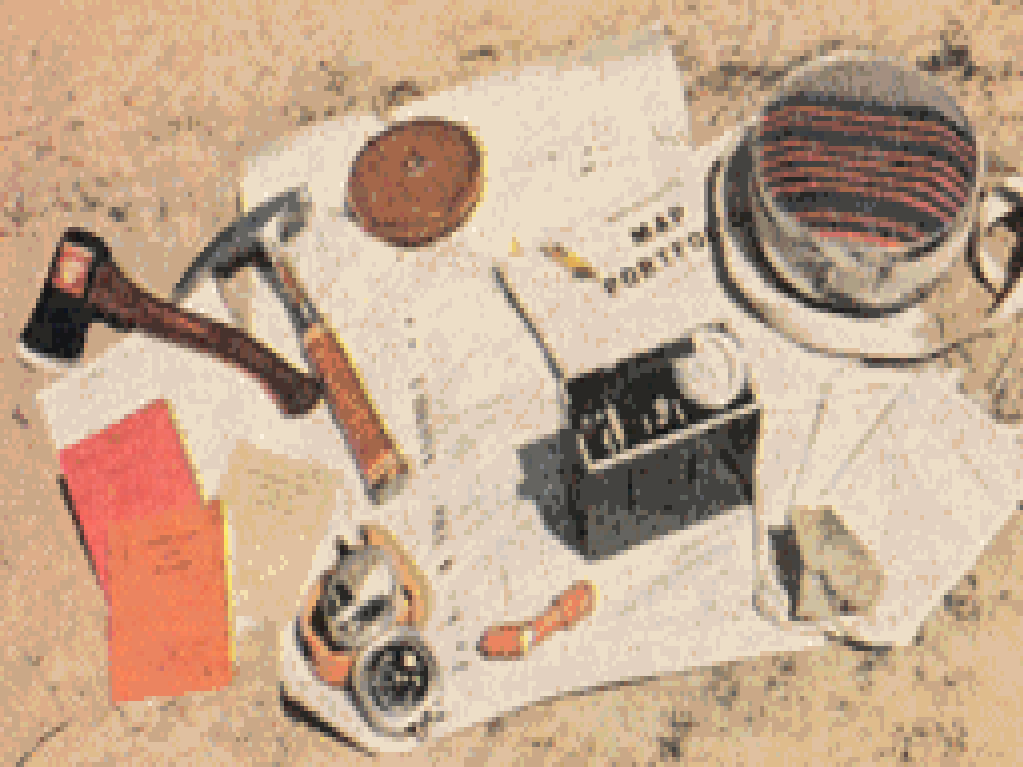 Basic Prospecting Kit 1955
At the time there were a variety of portable radiation instruments offered for the uranium prospector. The prices ranged from $30 to more than $1,995. The counters from left to right on the bottom row are the Precision Radation Instruments (PRI) Snooper ($29.95), the PRI Lucky Strike ($99.50), the Victoreen Vic Tic ($125), the Babbel Counter ($350), and the Detectron Bismuth Nucliometer ($1,295). And on the top row are the top row from left to right are the PRI Scintillator Model 111B ($495), the Mt. Sopris ($647) and the PRI Royal Scintillator ($1,995).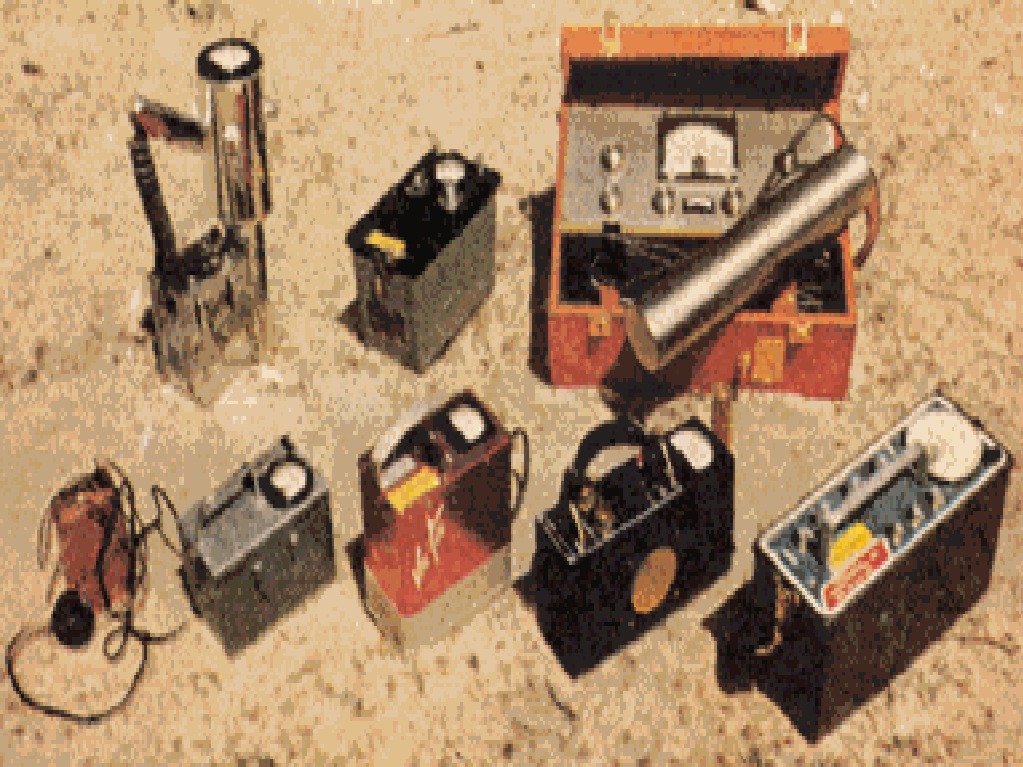 Radiation Counters 1955
It was also fashionable to dress appropriately for the prospecting adventure. The prospecting duds in the picture are the girl's "Diggerette Jr.", the mother's "U-235" suit, and the father's "Smock". The article also noted that Geiger counters were now being sold in the Sears, Roebuck and Montgomery Ward catalogs.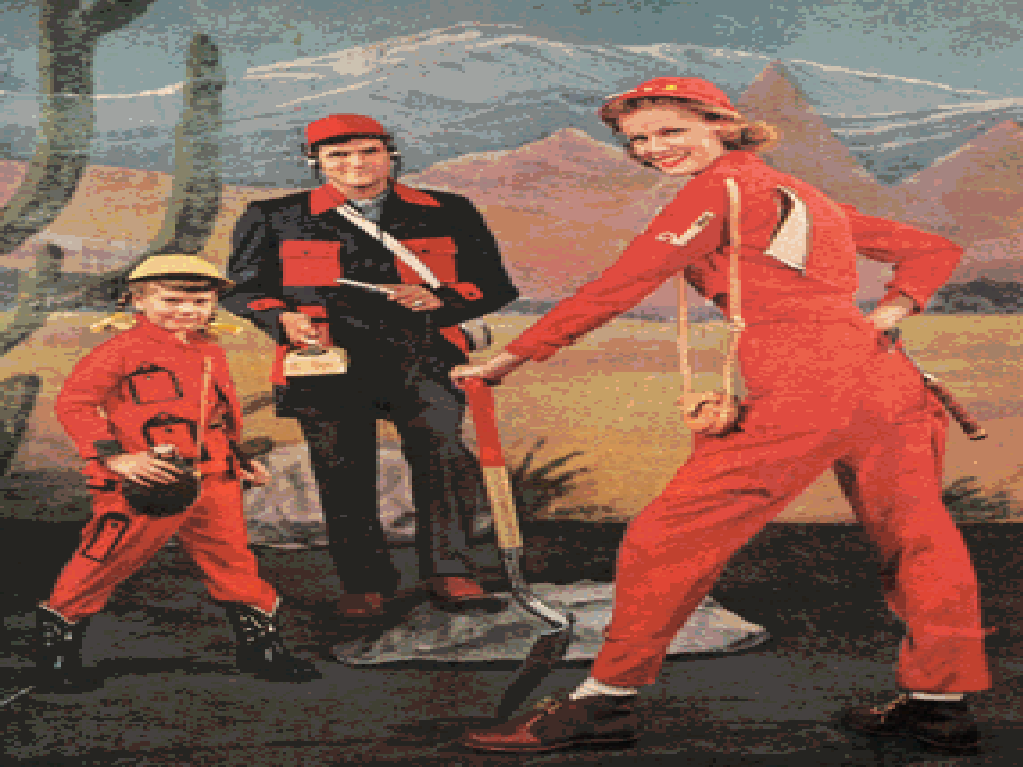 Prospecting Duds for the Family 1955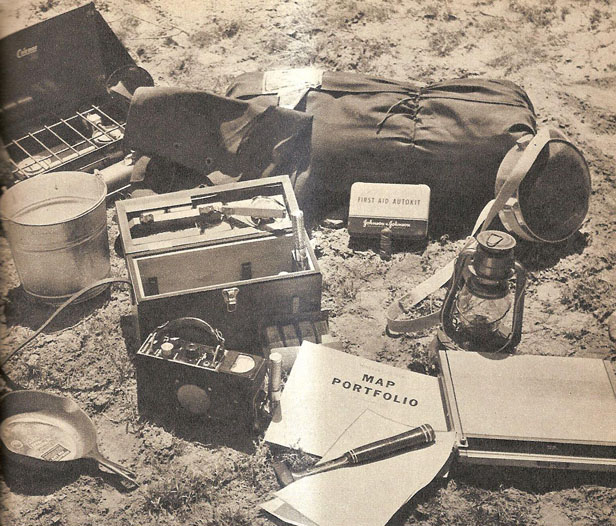 Prospector's Tool Kit 1955
Uranium ore comes in a variety of colors which depend on their mixture with other chemicals. Typically, low grade ores have a yellow to orange color making them easier to find. Pitchblende, which is a high grade ore and uraninite are dark and color and feel extra heavy when holding. The charts below show the range of colors and some of the characteristics for the various ores.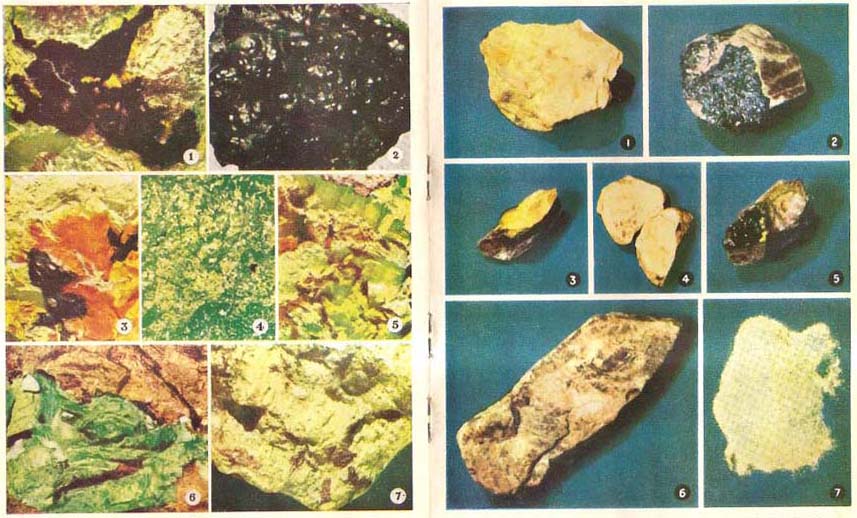 Selection of Uranium Ores showing Variety of Colors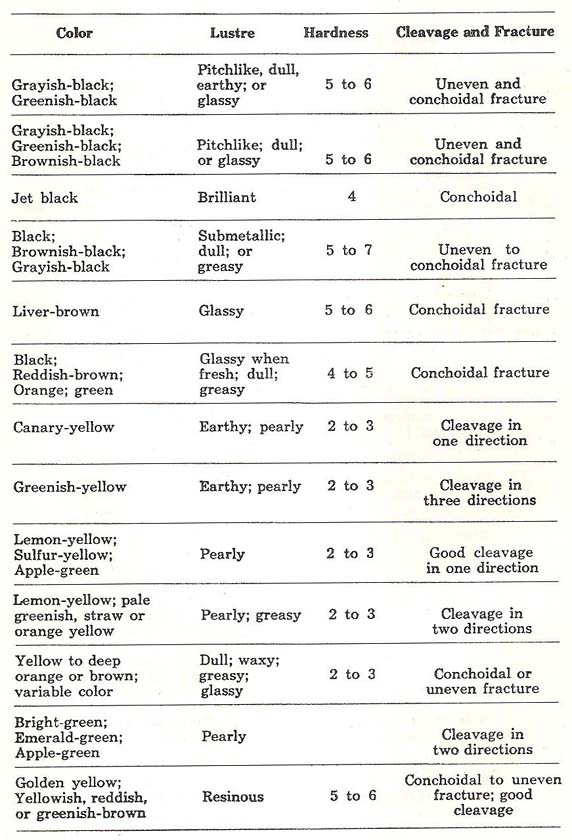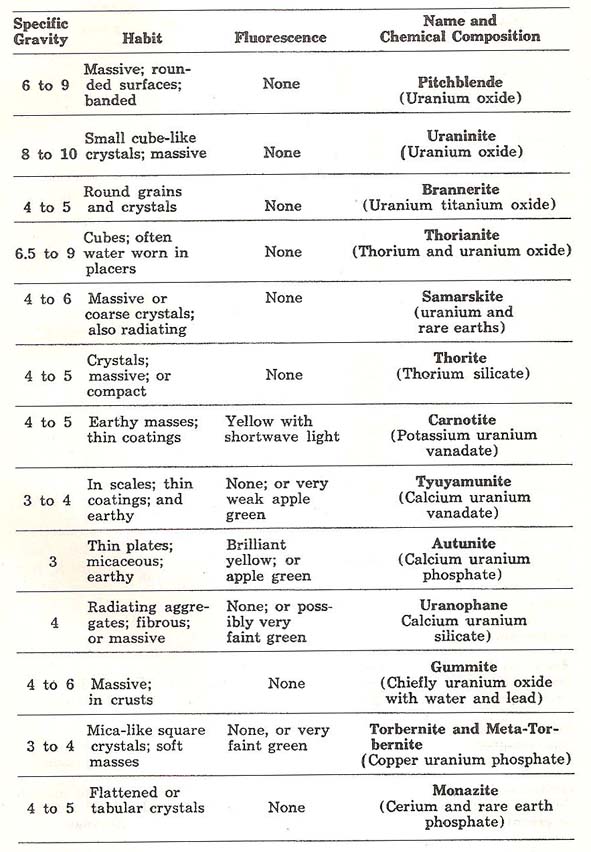 Uranium Ore Classification Chart
With the uranium boom came a wide range of store and restaurants that catering the uranium prospectors. The Uranium Club served fine foods and cocktails in Grand Junction, Colorado. And Charlie's Liquor Store advertised "Where the Uraniumaires Get Their Supplies".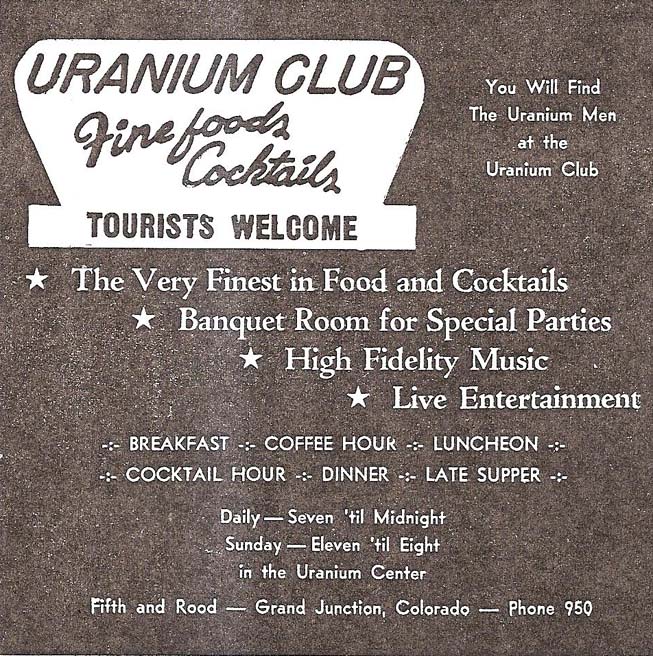 Uranium Club in Grand Junction, Colorado 1956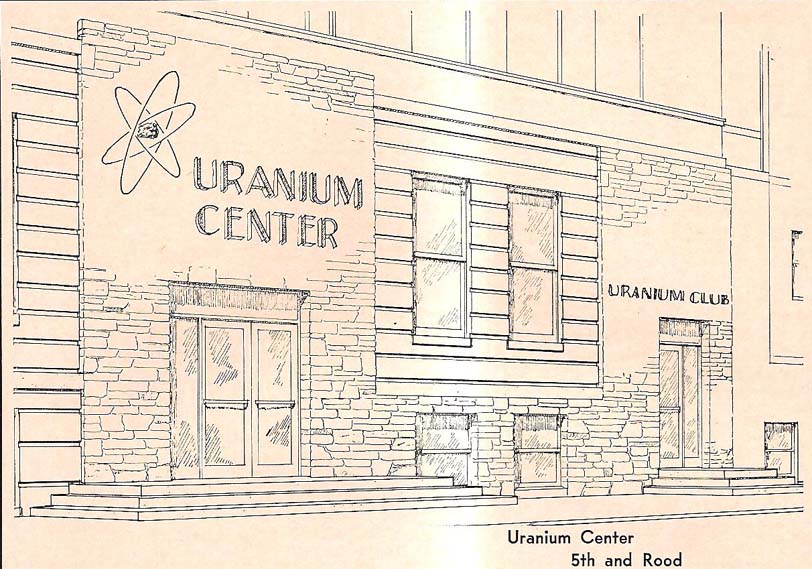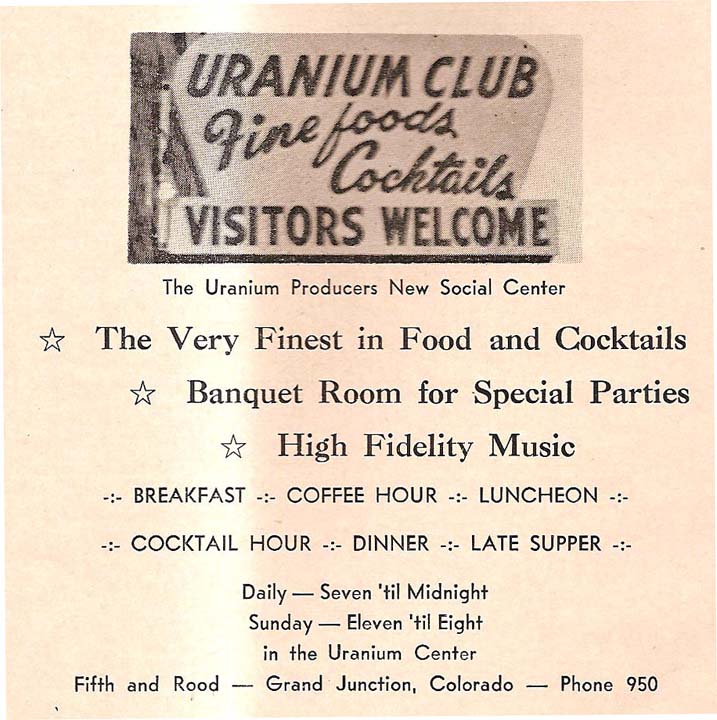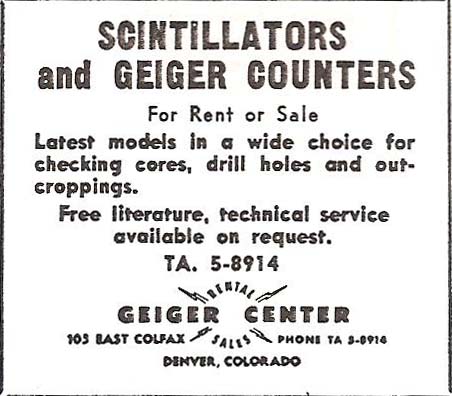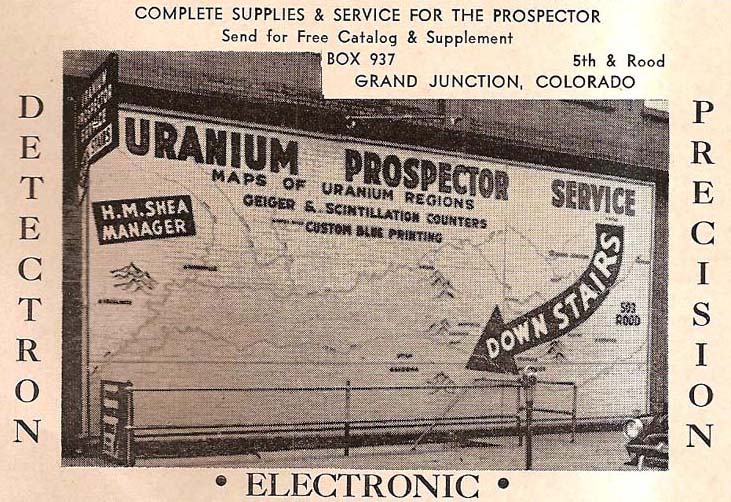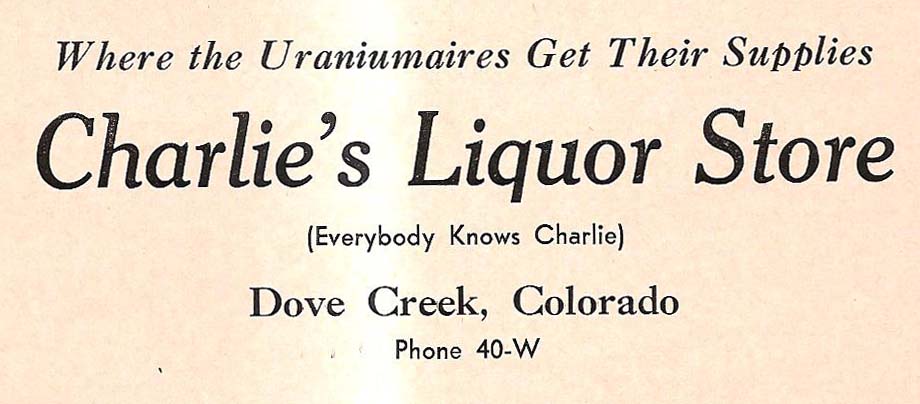 Everything was connected to uranium prospecting 1950's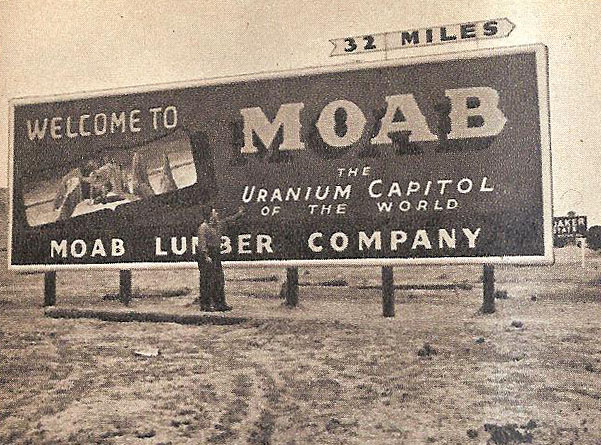 Moab, the Uranium Capitol of the World 1955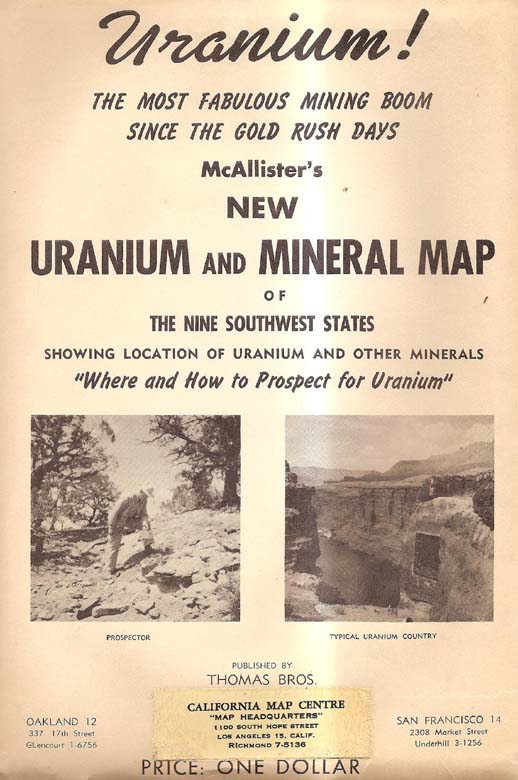 Uranium and Mineral Map for Prospectors 1950's
By the mid 1950's, there was a wide range of Geiger counters for prospectors to choose from. There were inexpensive ones starting for less than $50 to large airborne and carborne systems for $5000. The below picture is from the Radiac Company of New York. They recommended starting with a simple, inexpensive instrument and then working you way up and "to get some experience before you go over-board".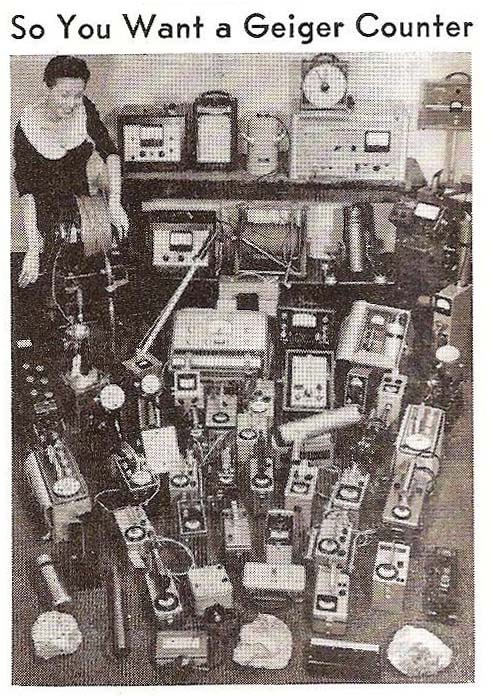 Wide Selection of Geiger Counters 1955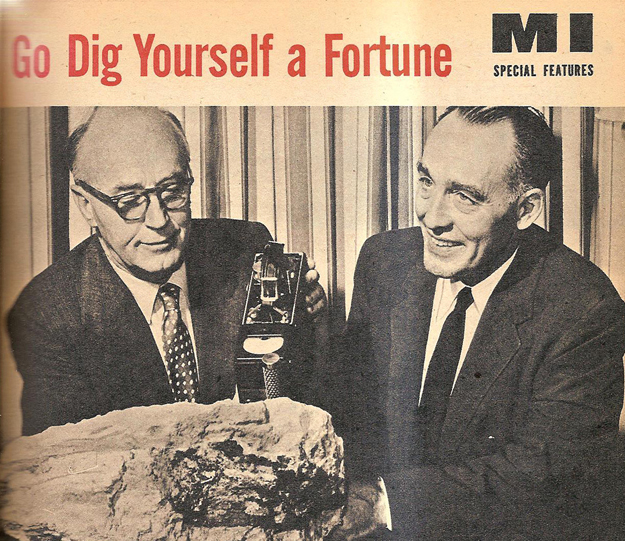 Vernon Pick, right, got $9,000,000 for his uranium find from Atlas Corp. Prexy Odlum, left, from Go Dig Yourself a Fortune by Harry Kursh in Mechanix Illustrated May 1955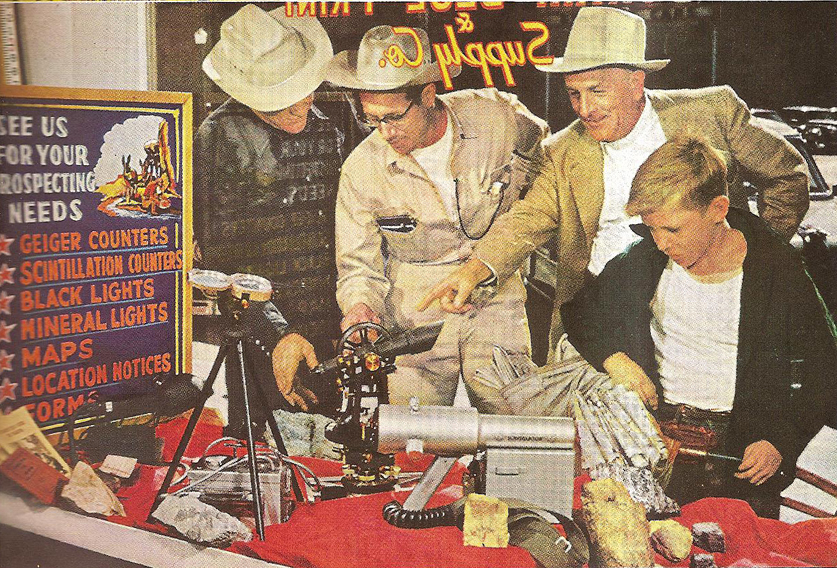 Prospect Fever Grips Old and Young Alike from Hunting Uranium Around the World by Robert Nininger and National Geographic Society 1953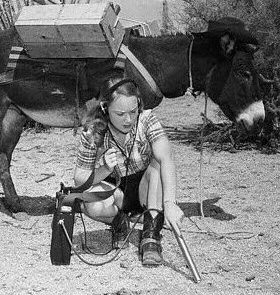 When rock blooms yellow and Geiger counters rattle - uranium! by Robert Nininger and National Geographic Society 1953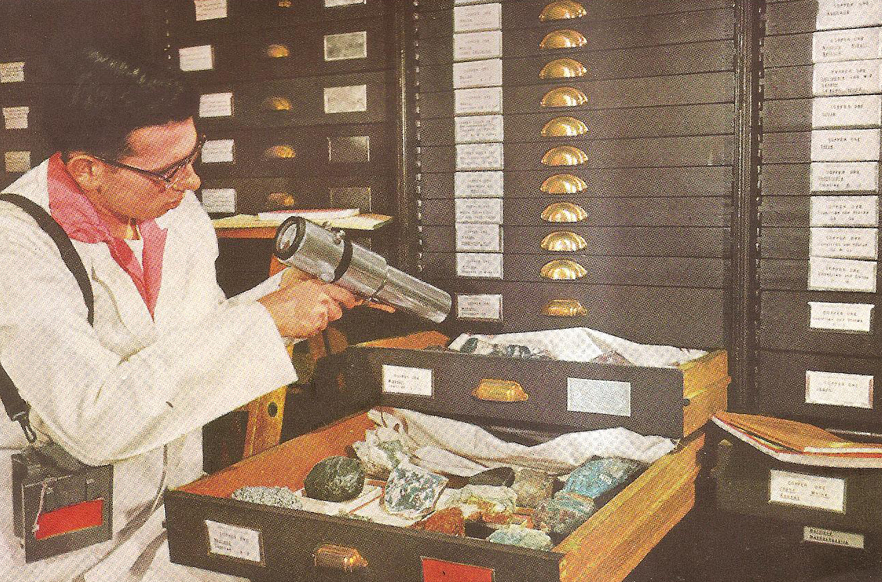 Not even museum rocks escape ray tests by Robert Nininger and National Geographic Society 1953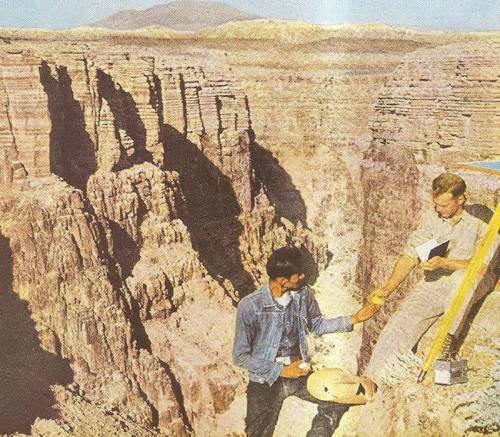 Measurements on a canyon wall by Robert Nininger and National Geographic Society 1953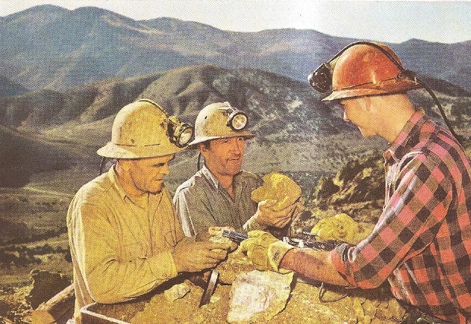 It looks good! Utah miners exclaim by Robert Nininger and National Geographic Society 1953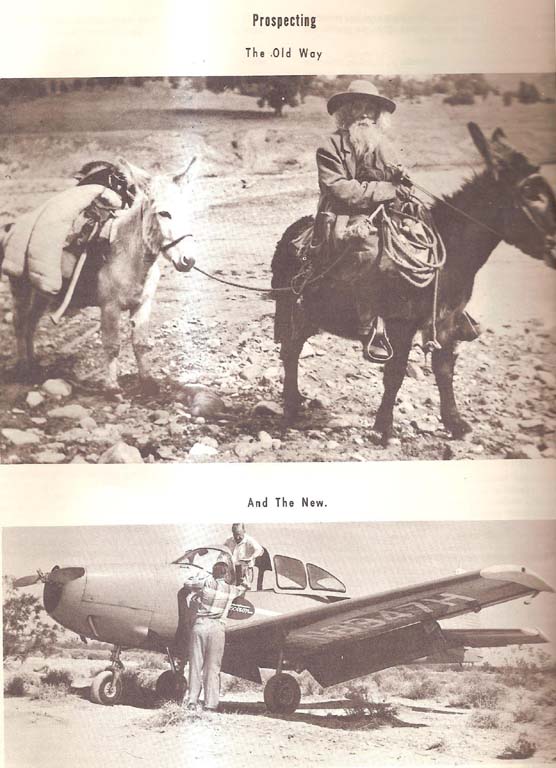 Uranium prospecting - The Old Way and the New Way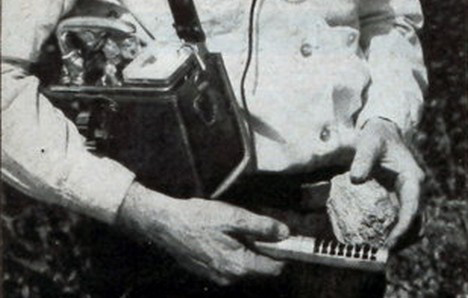 Detector Measurement of Ore Sample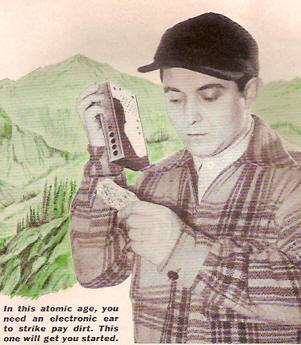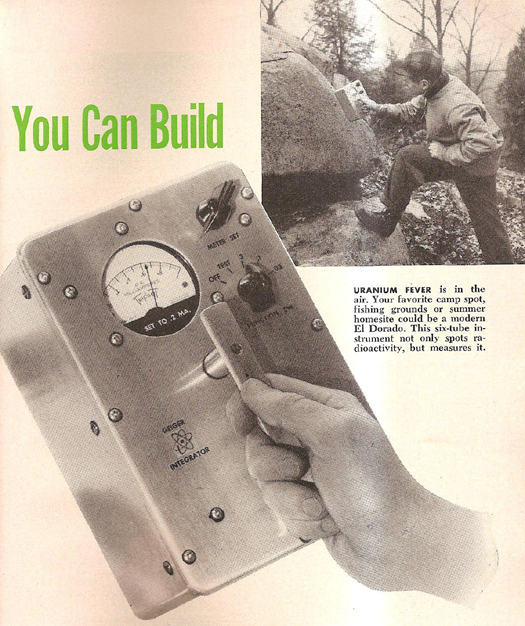 Prospecting with a Geiger Counter, Popular Science April 1955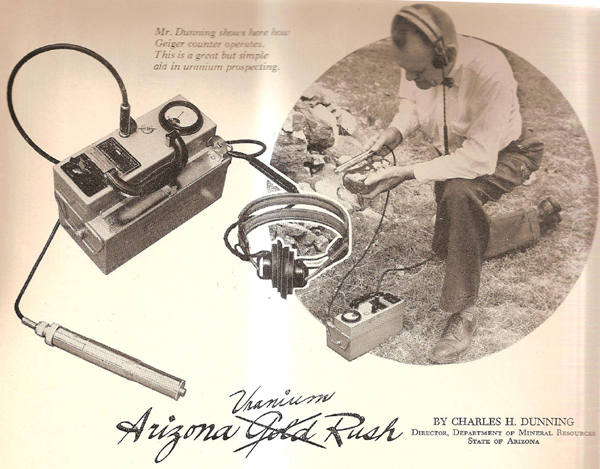 Mr. Dunning shows here how Geiger counter operates. This is a great but simple aid in uranium prospecting. By Charles Dunning in Arizona Uranium Rush, Arizona Highways, August 1949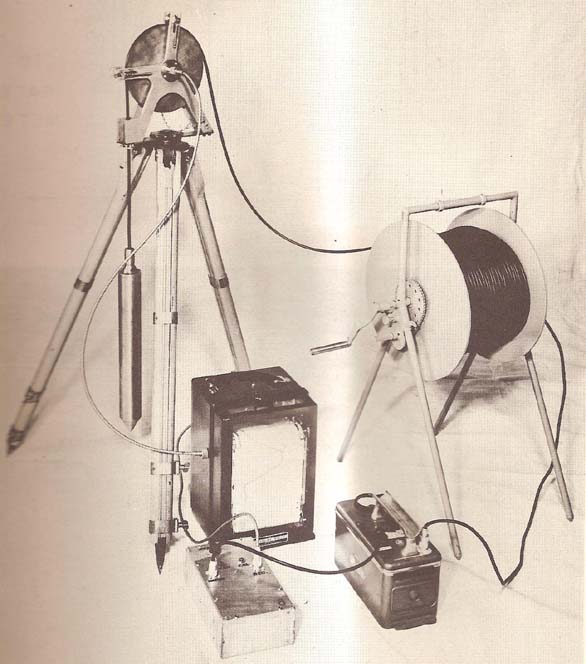 Well Logging Rig for Uranium Prospecting 1952
There were many children's games and science sets sprung up around the uranium rush. A few examples are below.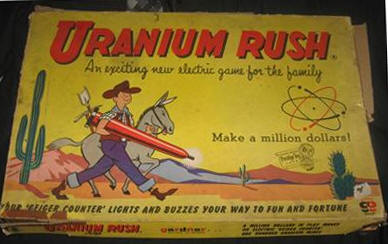 Uranium Rush Board Game 1950's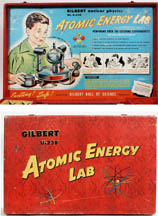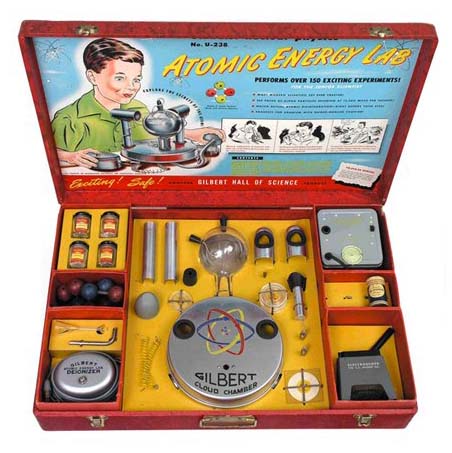 AC Gilbert U-238 Atomic Energy Lab 1950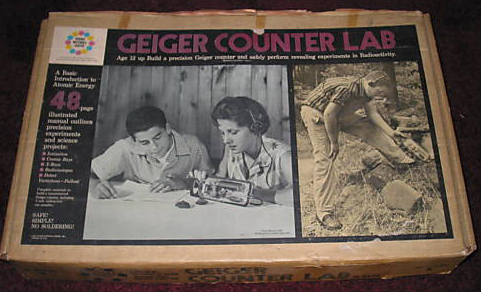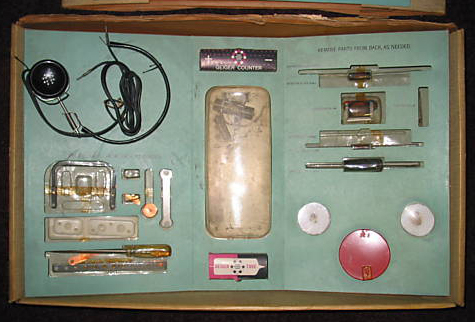 Geiger Counter Lab 1950's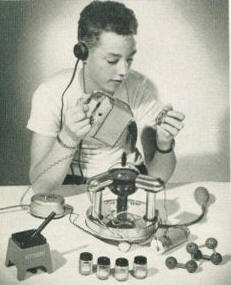 AC Gilbert Ad 1951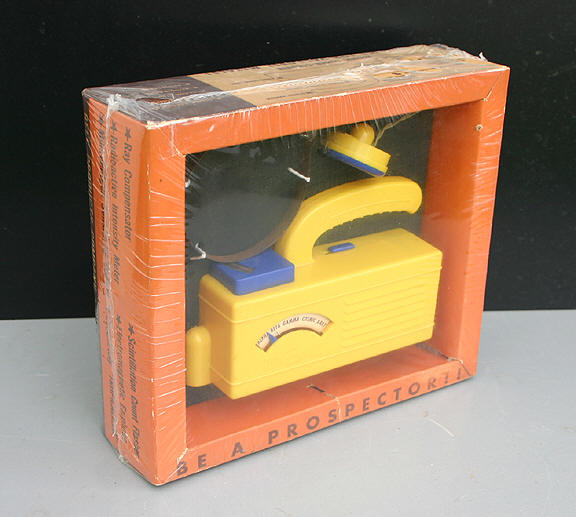 Toy Geiger Counter 1950's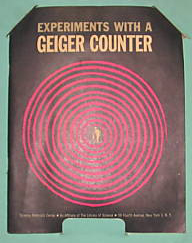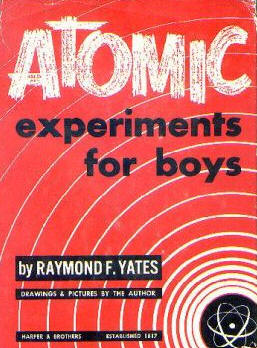 Geiger Counter Lab 1950's (Experiment Book) Atomic Experiments for Boys 1950's
Hollywood produced several movies about the uranium rush.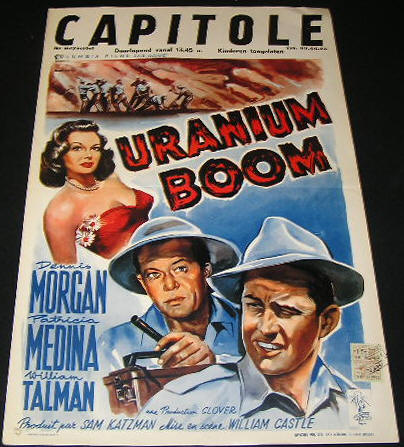 Uranium Boom Movie Posters 1950's
Poster from the 1955 Allied Artists comedy film, DIG THAT URANIUM, starring Leo Gorcey, Huntz Hall, Bernard Gorcey, Mary Beth Hughes, Raymond Hatton, Harry Lauter, Myron Healey, Tom Keene, Paul Fierro, David Gorcey, Benny Bartlett, Don C. Harvey, Frank Jenks, Francis McDonald and Carl 'Alfalfa' Switzer. The film was directed by Edward Bernds. DIG THAT URANIUM was part of the Bowery Boys/East Side Kids/Dead End Kids film series. The photo features Leo Gorcey in a cave with showgirl, Mary Beth Hughes where both are listening with excitement to the clickings of a Geiger counter.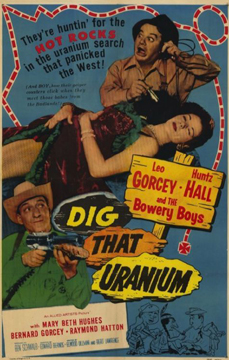 Dig That Uranium Movie Poster 1950's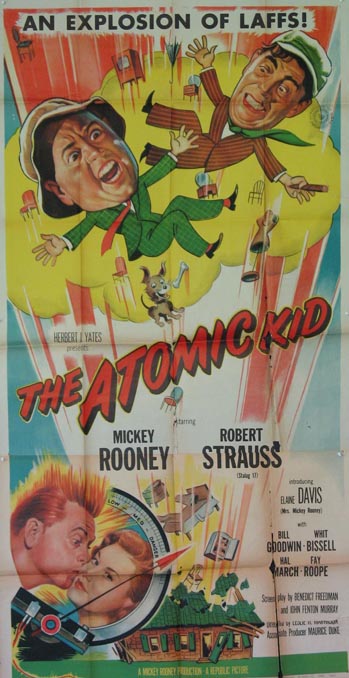 The Atomic Kid Movie Poster 1950's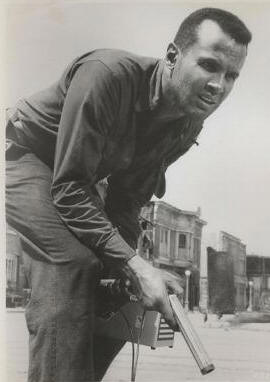 Harry Belafonte Movie Poster 1959